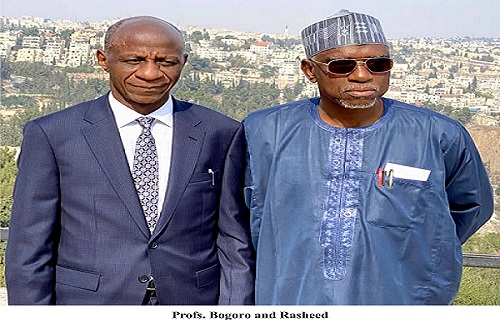 The National Universities Commission, NUC and the Tertiary Education Trust Fund (TETFund) have resolved to jointly host a National Summit on Research and Development (R & D) in the first quarter of next year.
The Executive Secretaries of the NUC, Prof. Abubakar A. Rasheed and TETFund, Prof. Suleiman E. Bogoro disclosed this after concluding a Research and Development visit to some selected institutions in Israel, stating that the objective of the Summit would be to draw the attention of the country to the total neglect of R & D.
In his concluding remarks at the end of the visit in Tel Aviv, Prof. Rasheed who is also the acting Chairman of TETFund said that Nigeria was not investing in R&D and "that is partly the reason why the country is finding it difficult to develop."
He said that the summit which would draw participants from first rate Researchers from different parts of the world, Professors and Researchers from Nigeria and industrial practitioners would provide case studies of specific countries to see why they were succeeding, how much they were spending on R&D and how they were organising their R&D for the development of their nations.
The NUC Scribe said that at the end of the summit, a communiqué would be produced that would tell government what it should do as well as tell Industry and University what they must do and how to coordinate all efforts towards encouraging innovation and inventions to achieve national development.
In the same vein, the two organizations also plan to host a second National Summit specifically on the state of Agricultural Research in Nigeria to follow the first summit a few months after.
Explaining the reason for the specific summit on Agriculture, Prof. Rasheed said that "this has become necessary in view of the importance of Agriculture in our lives", adding that the summit would involve all Research Institutes, Federal Ministries of Education and Agriculture and Faculties of Agriculture in Nigerian Universities and all stakeholders in Agriculture.
Prof. Rasheed said that one of the main reasons for the failure of Agriculture in Nigeria was the failure of our Universities to implement Agric Extension Services which was critical to the success of Agriculture in any country.
He said that Agric Extension was the way Universities disseminate knowledge to the society without waiting for government. "Our major problem in Nigeria is that we think the federal government must do everything. Nigerian farmers must benefit directly from the researches and innovation of Agric Researches to boost their yield."
He disclosed that NUC was unbundling the Agriculture Programme in Nigerian Universities into several programmes like Bachelor of Crop Science, Bachelor of Crop Protection, Bachelor of Agronomy, Bachelor of Agricultural Economy, Bachelor of Extension Services and so on.
The team visited a couple of Research and Development Organisations and Institutions including the Israel Innovation Authority in Tel-Aviv, The Van Leer Institute in Jerusalem, the Israel Academy of Science and Humanities, the SIMBIONX Medical Simulation Company and the Volkani Agriculture Research Organisation in Gilat. Other places visited were the Kitchen (Food Technology Hub), the Faculty of Agriculture, a branch of the Hebrew University and some Historical and Religious Sites.
At the Israel Innovation Authority, the Acting Vice President International Division, Avi Luvton told the visiting Nigerian team that the authority was the main Israel government entity in charge of Innovation.
He said that Innovation and Technology were not the exclusive preserve of the West as all countries were in it and any country not in the Innovation race would be left behind as innovation was happening so fast.
Mr. Luvton told his visitors that the Authority does not fund basic research but financially supports and encourages applied researches. "We support the ecosystem of innovation companies which include governmental, academic and private companies inclusive of multinational companies, growth companies and small and medium scale companies," explaining that in Israel there was interconnectivity among all these companies and that the Government monitors their challenges and invest heavily but does not intervene.
According to him, the flagship tools provided by the authority included building a consortium of universities and companies to discuss innovation, dealing with start-ups and incubation, investing in the R&D of growth companies and low-tech companies to enable them grow, adding that "in Israel we have no choice, we must encourage technology growth and about 85 per cent of funding of start-ups come from government."
He said that the authority had a budget of half a billion dollars annually and "we operate like a private company with CEO at the head and are independent."
He disclosed that the authority receives about 3,000 applications every year and funds at least 50 per cent of the applications received, saying that need was the mother of all innovations but it was okay for innovation and technology to fail and that was why the authority and the Israeli government did not bother about failure.
Mr. Luvton said that unlike in some countries where the bulk of research funding goes to the academia, in Israel most of the budget goes to the industry. "It is alright to have good published researches by the academia but they lead to nothing."
In his own exit remarks, the ES, TETFund, Professor Bogoro said that he started the company to get the buy-in of Universities in R&D and have them lead the nation in 2014, adding that Research Institutes were experts in their limited areas but Universities were natural leaders in R&D.
Prof. Bogoro said that the Triple-Helix model was a bigger manifestation of R&D and that Researches deepened knowledge and Science leads to innovation.
He said that TETFund had visited a number of countries to learn the best practices in R&D and would produce a comprehensive report on all their findings to guide them in funding Research and Development in the Nigerian University System.
Responding, the Ag. Chair of TETFund and ES NUC, Prof. Rasheed said that although only the NUS could promote R&D but it was a multi stakeholder enterprise and once the NUS wakes up to its responsibility in R&D then it could drag all other stakeholders to its side.
He advised that the draft recommendations from the TETFund visits should be validated by all stakeholders before being put to use.
Prof. Rasheed disclosed that the NUC had finished a draft research policy that would serve as National research policy to guide the nation and the universities because currently there was no policy guiding research in Nigerian Universities. "Everybody writes what he wanted and that is why we could not advance anything."
He also blamed the industries for being partly responsible because they don't relate with the universities to direct research, adding that if industries had been giving grants and demanding research in their desired areas, it would have opened up competition to win the grants by researchers and stimulate R&D in Nigeria.
Prof. Rasheed said that Nigerian University System started in 1948 the same year the state of Israel was created. "University college Ibadan was started in 1948 principally to train Nigerians who would take over the state services from the colonialists, so basically producing manpower."
He said the universities since then had not changed drastically until in the last few years. They had been busy producing people who would be public servants, go into private sector, so our key target was to teach and "therefore we have remained essentially Centres of Excellence in teaching producing some great minds but not in research.
According to him so many universities until quite recently, as recent as this year, have had no Directors of Research to coordinate Research Management in their universities.
He said that NUC had now forced every university to have a Director of Research and had also asked all universities to develop a draft research policy.
"We are about the only country in the world where research is not coordinated. In most cases PhD candidates would develop their own topics and the department would struggle to find a supervisor for them and even if nobody was competent, somebody would append his name as a supervisor either because he was looking for a way to get more papers for him to become a professor or to pretend he knew the area and at the end of the day little value was added because the supervisor himself was not well informed on the issue and would therefore not guide properly."
He gave the example of the University of London where a Nigerian was to do PhD in Pharmacy in 1979 and wanted to do his research on Malaria, but his supervisor told him that it was not the policy of the university or of any UK university to conduct research on malaria because it was not their disease and therefore not their problem.
In fact every university I know of in UK or anywhere usually developed broad research areas from where tentative research topics where generated by the staff in various faculties in line with the broad national research policy," he said.
Prof. Rasheed said that even though Universities were the most conservative institutions in the world, they were still the main agents of change and they have to change in order to stimulate change and "must therefore embrace change themselves".
The Israeli R&D visit was facilitated by Skill 'G' Nig. Ltd a company that specialises in Instructional materials for Science, Technology, Mathematics, Technical and Vocational Education.
Briefing the delegation on arrival in Tel-Aviv, the Chairman of Skill 'G' Moshe Moalem said the objective of the visit was to initiate possible collaboration between Nigeria and Israeli Agencies and Institutions on Research and Development in order to improve and increase knowledge, capacity manpower, structure and infrastructure and procedure of Research and Development across Nigeria.
The Ag. Chairman of the TETFund and Executive Secretary NUC, Prof. Abubakar Rasheed led the delegation.
The membership are the ES TETFund, Prof. Suleiman Bogoro, Vice Chancellor, UniLag, Prof. Olutoyin Ogundipe, Vice Chancellor, Federal University, Wukari, Prof. Abubakar Kundiri and Dep. Vice-Chancellor, ABU, Prof. Sadiq Abubakar. Other members are two Directors from NUC, Mr. Christopher Maiyaki and Ibrahim Usman Yakasai. From TETFund: Ag. Director, TETFund, Dr. Bakari Girei, Arch. Uchendu Mbaegbulem, Dr. Emmanuel Chiroma, Dr. Eliogu Joy, Mrs. Alabi Olayemi from the Skill 'G' the Chairman, Dr. Moshe Moalem, Mr. Meir Dapan and Mr. Ige Oluwole.