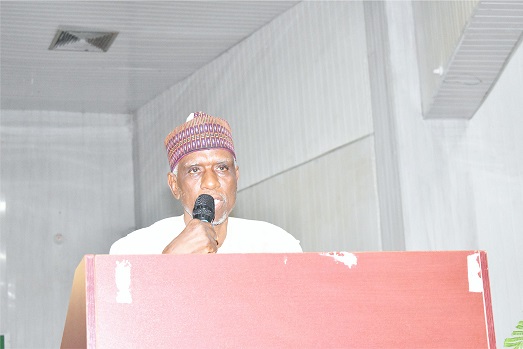 The Executive Secretary, National Universities Commission (NUC), Professor Abubakar Adamu Rasheed, mni, MFR, FNAL, last Monday, informed the Management and staff of his stepping down as the Chief Executive of the Commission, in order to continue with his passion of teaching in the classroom at Bayero University Kano (BUK).
He made the revelation to the members of the NUC family at a farewell meeting he held describing the decision as personal.
The announcement was received with consternation and trepidation by many who taught that the rumor was just a ruse for a man who many loves and regards as very kind and humane in his dealings with all strata of the staff.
Giving insight on his choice, Professor Rasheed said himself and the management team tried their best to implement some of the recommendations that was presented to him by the staff on assumption of office about seven years ago.
He said: "I chose to stand before the staff of NUC to confirm the widely circulated rumor about my exit from office. This is true and well-thought out by me. I purposely chose to disengage from the Commission and get back to my pride. I have lost interaction with my PhD students in the last couple of years," he stated.
The out-gone Executive Secretary stressed that after five years and two years into his second term, he had taken the decision to go back to the classroom to teach again in BUK.
He further explained that it was a voluntarily decision to step down so as to save himself of the stress of the Office, stating that he hardly rest even at weekends and his body told him its time to quit but would continue to be part of the education sector and NUC.
He expressed the view that people had to leave for the young ones to grow and jokingly said that if NUC invite him for accreditation he will honour the invitation.
He said that in all honesty, he enjoyed working with the NUC staff and that it was the love he had for all that made him stay long in the job.
The NUC Scribe then revealed that he wrote a letter to the Minister of Education seeking permission to step down but in a way to dissuade him from quitting earlier, the Minister delayed the transmission of the letter to the President of the Federal Republic of Nigeria for his approval.
He clarified that his resignation was not on health ground, saying that God had graced him with energy and remained agile, chiding that he could outpace many in a 10km race with his current state of health.
He said that the entire management and staff of BUK got confused about his decision and was not sure whether it was good or bad omen, but expressed delight to return to the University.
In his words: "BUK is ready to welcome me with open arms and anytime from 1st July, I will resume lecturing once again. First, I will report to my Vice-Chancellor, who is graciously waiting to receive me back into the university environment. "Thereafter, I will proceed on a short leave to rest and would resume then in October, after all I was a lecturer before my appointment as the Executive Secretary of NUC," he added.
He assured the staff that his heart would forever be in the Commission because he enjoyed working with the NUC family, noting that though he must had offended some persons that it was not as Professor Rasheed, but, the ES NUC, asserting his official position.
He said that he would forever cherish the memory of his last seven years despite the enormous challenges inherent in the system, noting that his team did its best to move the university education forward.
Some of the targets it set which he expressed pride on included the revitalization and improvement of university education through the assistance of an excellent team of advisers from within and outside.
He particularly mentioned the STRADVCOM team, an NUC Advisory body led by Emeritus Professor Peter Okebukola, OFR, .
He used the forum to declare that by Friday the 30th of June, 2023, he would hand over affairs to the Deputy Executive Secretary (DES) Administration, Mr. Chris J. Maiyaki, in line with extant provisions of the Public Service Rule (PSR).
He prayed for the success of NUC and highlighted that the Commission would continue to serve as the mother of universities. He, therefore, enjoined the staff to always protect the integrity and reputation of NUC.
In his remarks on behalf of NUC Visiting Professors, Professor Abubakar Alkali Rufai' said that the Executive Secretary was only stepping down and went down memory lane on how both of them had maintained a steady relationship which started in 1978 at Bayero University, Kano.
He said that the Executive Secretary was one man that has maintained closeness with his friends and associates and was fortunate to have led a strong team that worked with him which made his work easier.
Professor Alkali described the Executive Secretary as a man of principle, honour and wished him well and sound health despite having 3 years and one month left in office.
Speaking via zoom, the Vice- Chancellor of BUK, Professor Sagir Adamu Abbas thanked the Executive Secretary of NUC for changing the landscape of university education in Nigeria.
He said the ES was a man of excellence, the architect of modern BUK, who had also changed the curriculum of Nigerian Universities. He asserted that his constituency, BUK admired his leadership style and respected the way he had mentored Nigerian universities overtime.
The Vice-Chancellor, University of Benin (UNIBEN), Professor Lilian Salami, who spoke on behalf of Vice-Chancellors of Nigerian Universities, said Professor Rasheed would be sorely missed because of his contribution to the improvement of university education that hinged on mentoring, counselling and dedication to duty.
The then Deputy Executive Secretary (DES) Administration, Mr. Christopher Maiyaki described the ES as a leader who encouraged and inspired a lot of NUC staff.
According to him, Professor Rasheed has been a boss anybody would want to work with because of his charismatic, simple, humble, jovial and kind heart.
He said the last seven years in office had been that of reforms and innovations like the Core Curriculum Minimum Academic Standard (CCMAS), growth of private universities, Centres of Excellence (ACE) and other lofty projects.
Mr. Maiyaki praised the ES for displaying a noble statesmanship to leave office with three years remaining when others were seeking for such huge opportunities.
In his own words: "He has come to NUC, he has seen and conquered, to honour him we shall keep up his good work."
He stated that the ES just reminded the staff that NUC was known for quality and should continue to uphold that standard so that the Commission would not disappear.
The Director, Human Resource (DHR), Mr. Boniface C. Odum recounted how the ES was instrumental to his resigning sabbatical appointment at the University of Calabar (UNICAL) because he desired to work with him.
He praised the ES for the wonderful job he had done in the Commission and wished him success in his future endeavours.
The Deputy Director, Open and Distance Education, Mrs. Hadiza Ramallan, whose remarks was emotion -ladden, stated that the news of the Executive Secretary's resignation came as a thunderbolt to the entire staff of the Commission who had benefitted immensely from his large heart.
Mrs Ramallan said she envisaged a higher place of authority for Professor Rasheed in the nearest future and prayed that God would grant him good health and goodwill in his endeavour even as he returns to the classroom.
Also, Deputy Director attached to the Deputy Executive Secretary (Academics), Mr. Nte Bisong described Professor Rasheed as a good man, who liberalized Resource Verification and Accreditation. He added that he would be remembered as a principled man that added value and changed the face of every Directorate in the NUC.