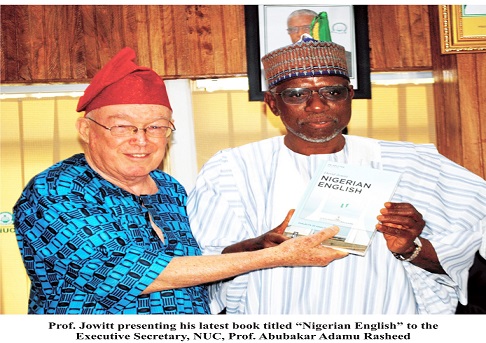 Professor David Jowitt, a British Academic who served in some Nigerian Universities for 35 years recently visited the National Universities Commission (NUC) to present his new English Language book titled 'Nigerian English, to Professor Abubakar Adamu Rasheed.
Speaking after receiving copies of the new book Professor Rasheed described Professor Jowitt as one who gave his entire life to the service of Nigeria describing him as a rare and thoroughbred academic, who despite the challenging environment in Nigeria dedicated himself to teaching and learning until his decision to return home to United Kingdom.
He said: "Professor Jowitt has been my friend for over 35 years now. He came into Nigeria in 1963 after graduating from Cambridge University and upon arrival he taught in some Secondary Schools, Colleges of Education and later joined the services of Bayero University Kano (BUK), in 1975 and later moved to University of Jos, until his retirement."
The Executive Secretary said that although Prof. Jowitt had gone back to the United Kingdom, the Commission was however looking forward to working with him with to continually tap from his wealth of knowledge and experience. He pledged to purchase copies of the book for the Nigerian Universities.
In his response, Professor David Jowitt, thanked the Executive Secretary and his Management as well as the entire staff of NUC for the honour done him, stressing that he considered Nigeria as his home and nothing less.
He said "I came to Nigeria precisely in September, 1963, and up till this age, I can look back and thank God for the life he has given me.
Truly, old time memories come back to me and I remember things that happened so long ago and it all seems like yesterday when I first came to Nigeria. But it has been a memorable and rich experience to be in this country with its diversities, all its friendliness and with all its humour."
Professor Jowitt said his mission to the NUC was to present copies of his new book to the Executive Secretary.
Giving an insight on the new book, Professor Jowitt said though it was published abroad, he felt the need to make copies available to Nigerians at home to enable them understand and appreciate the concept behind the Nigerian English.
Other books authored by Professor Jowitt include "Common Errors in English Language". Two other prominent personalities at the meeting were the President of Nigerian Association for Educational Administration and Planning (NAEAP), Professor Hauwa Imam, and the Secretary-General NAEAP, Dr. M.S. Dada.