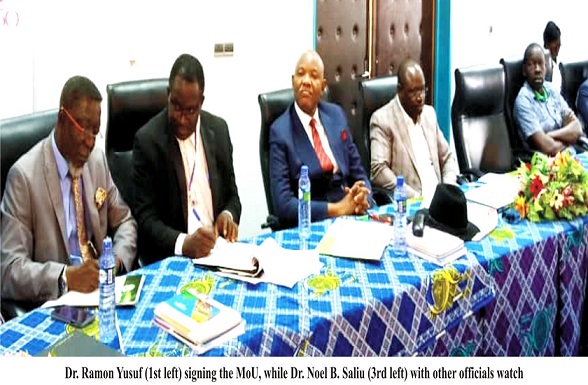 The National Universities Commission (NUC) and Conseil Africain et Malgache pour l'Enseignement Supérieur (CAMES), had signed a Memorandum of Understanding (MoU) to facilitate the implementation of their collaboration on higher education quality assurance within West African sub-region.
The signing of the MoU took place on Thursday, 9 January, 2020 at the CAMES Secretariat in Ouagadougou, Burkina Faso.
At the signing ceremony, NUC Deputy Executive Secretary (Academics), Dr. Suleiman B. Ramon-Yusuf, who represented the Executive Secretary, expressed the Commission's delight to collaborate with CAMES, a reputable regional quality assurance agency for francophone Africa.
He reiterated that the objectives of CAMES were quite comparable with those of NUC. He informed that NUC, which was a regulatory and quality assurance agency charged with the responsibility of orderly development of university education in Nigeria was established in 1962 as a unit in the Cabinet office of the then Prime Minister and became a statutory body in 1974.
The Commission, according to Dr. Ramon-Yusuf, had the largest university system in Africa with a total of 172 universities comprising 45 Federal, 48 State and 79 Private universities with student population of 2.2 million and 63, 650 academic staff with 11, 120 as full Professors.
The Deputy Executive Secretary further explained that the main activities of the Commission revolved round quality assurance. He added that, the Commission also among others, set Minimum Academic Standards in Nigerian universities; conducted accreditation exercises; Developed a very robust Open and Distance Learning (ODL) system to accommodate more students into Nigerian University System (NUS) and produced guidelines on Transnational and Cross Border Education.
Harping on the collaboration, Dr. Ramon-Yusuf said that NUC held its collaboration with CAMES in high esteem; adding that quality assurance, harmonisation and mutual recognition of qualifications in Africa were important to the Commission.
He reported that the Commission had similar collaboration with Association of African Universities (AAU), while it played active roles in African Quality Assurance Network (AfriQAN), Harmonisation of African Quality Assurance and Accreditation (HAQAA), Pan African Quality Assurance Framework (PAQAF).
He pointed out that beyond the continent, NUC was involved and had linkages with United States' Council for Higher Education Accreditation (CHEA), United Kingdom's Quality Assurance Agency (QAA), the German DAAD, University of Sussex, University of London and other international institutions.
He emphasised that one of the major reasons for the collaboration between NUC and CAMES was due to the challenges faced hy Nigeria with its Francophone neighbours with regards to higher education. He expressed the opinion that mutual collaboration should be based on mutual respect. He expressed with dismay instances where non-quality assured institutions were established in some neighbouring countries particularly for Nigerians.
He particularly gave the example of Bachelor of Nursing (B.NSc) programme being run in two years in some of those countries instead of the globally- accepted duration of 4 years.
He therefore called on CAMES to ensure that the violation of quality assurance principles in the countries of its jurisdiction were addressed. He stressed that as a continent, Africa had not reached the level where accreditation of programmes and institutions would be voluntary. He advised CAMES to make its accreditation compulsory for all Francophone countries.
He recalled that Ghana was not accrediting its private universities until the intervention of NUC, which led to the decision of the National Accreditation Board to begin the accreditation of private universities in Ghana.
Welcoming the NUC delegation earlier, CAMES Secretary General, Professor Bertrand Mbatchi, prayed for peaceful coexistence in the region in light of the security challenges being experienced in Nigeria and Burkina Faso.
Giving an overview of CAMES, Prof. Mbatchi said that it was the French acronym for the African and Malagasy Council for Higher Education with its Secretariat in Ouagadougou. He said that CAMES was established in 1968 with the objective of harmonising academic programmes and policies regarding to staff recruitment and promotion in its member states.
The Secretary General explained that CAMES consisted of 19 countries namely, Benin, Burkina Faso, Burundi, Cameroon, Central African Republic, Congo, Democratic Republic of Congo, Equatorial Guinea, Ivory Coast, Gabon, Guinea, Guinea Bissau, Madagascar, Mali, Niger, Rwanda, Chad, Senegal, and Togo.
He further stated that CAMES had developed a strategic plan based on seven strategies and had adopted a dynamic plan 2020 – 2022. Some of CAMES' partnership programmes were designed to show their expertise. A few examples of the partnerships were those with UNESCO, West African Health Organisation (WAHO), DAAD, Association of Francophone Universities (AFUL) among others.
Professor Mbatchi traced that CAMES-NUC collaboration started when NUC Executive Secretary, Professor Abubakar Adamu Rasheed invited him and some of his staff to the NUC Secretariat in Abuja in 2018. The visit, he said, led to the development of the MoU between the two organisations and the validation of the framework of action.
He commended Professor Rasheed and staff of the Commission who had worked tirelessly to get the two organisations to the present level of signing the MoU. This, according to him, was indication of African oneness in diversity which could be exploited to promote a prosperous continent. He noted that the MoU was a sign of common vision to Pan African larger vision.
Professor Mbatchi further said that CAMES and NUC were advanced in quality assurance and their collaboration would open doors for mutual benefits and capacity improvement. He said that NUC was undoubtedly the most important quality assurance agency at Pan African level, while CAMES was the biggest quality assurance agency at African regional level.
He charged that It was the duty of the two organisations to show the world their potentials that could transform the African continent.
After the signing of the MoU, the two organisations proceeded to give precision to the document in a meeting that discussed the action plan.
Some of the frameworks for action discussed included publicising the NUC-CAMES collaboration; promotion of good understanding of quality between the two agencies and their constituencies; noting that
harmonisation does not equate uniformity, NUC and CAMES should have an understanding of what minimum competencies, knowledge and skills students should demonstrate at particular levels to make harmonisation meaningful; the collaboration should promote minimum standards and accreditation, as Africa cannot allow the luxury of optional accreditation based on its peculiarities and level of development.
Also, NUC and CAMES should designate focal persons/officers to actualise the objectives (short, middle and long term) of the MoU; ECOWAS should be informed of the collaboration between NUC and CAMES as well as the objectives of the collaboration; Joint conferences and workshops should be organised by the two organisations.
It was also agreed that NUC and CAMES should take advantage of the AAU Television to publicise the MoU signing ceremony and the emerging activities from the collaboration and the collaboration should take advantage of available funds worldwide to facilitate their joint activities.
Also in the NUC delegation was Director of Academic Planning, Dr. Noel Biodun Saliu.