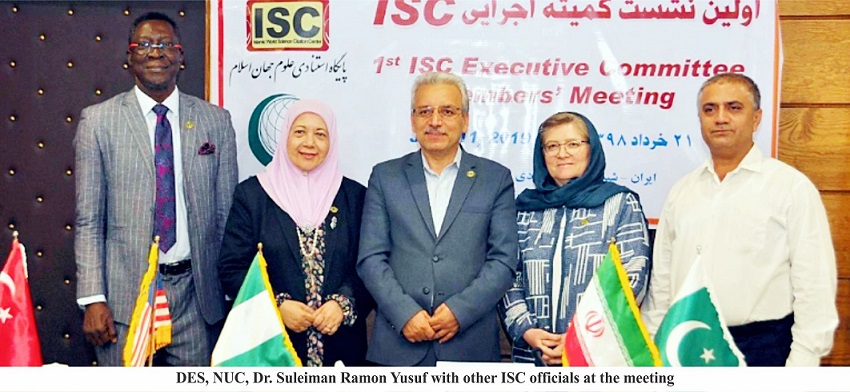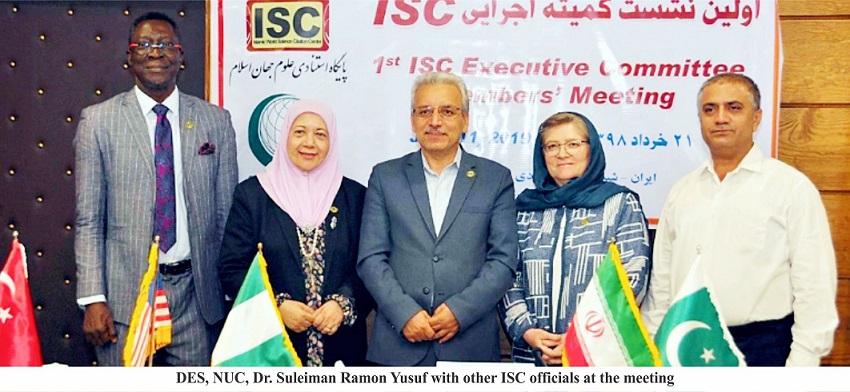 ---
The National Universities Commission (NUC), represented Nigeria and the African Region, at the Executive Committee meeting of Islamic World Science Citation Center (ISC) held in Shiraz, Islamic Republic of Iran, on Tuesday, 11th June, 2019.
The NUC Deputy Executive Secretary (DES) Dr. Suleiman Ramon-Yusuf, who attended the meeting on behalf of the nation as an executive member, also had representatives from different Organisation of Islamic Cooperation (OIC) regions, which discussed pertinent issues including: member countries' acceleration of scientific publications indexation; assessment of research performance of scientists, universities, institutions and scientific journals of Islamic countries; provision of support for enhancing the quality of research; and establishing an efficient scientific network in the Islamic world.
ISC, the Islamic world's leading source of scholarly research data was set-up to eliminate the bias facing scholarly publications from non-English speaking countries and those published in native languages.
Its establishment was based on the ratification of the Supreme Council of Cultural Revolution in April, 2008 by the Ministry of Science, Research and Technology of the Islamic Republic of Iran. The ISC was also approved by the Islamic Conference of the Ministers of Higher Education and Scientific Research (ICMHESR) at a meeting held by ISESCO in 2008 in Baku, capital of Azerbaijan.
Membership of the ISC Executive Committee was drawn from five countries and they represented their countries' Ministry of Higher Education and their region. The membership and their countries representatives include Dr. Suleiman Ramon-Yusuf (Nigeria); Professor Tuncay Dogeroglu (Turkey); Professor Asma Ismail (Malaysia) and Professor Azhar Ali Shah (Pakistan).
Presenting a paper titled "Higher Education in Nigeria and Strategies to Improve Relevance and Scientific Citation in Universities", Dr. Ramon-Yusuf stated that all the strategies to be adopted by ISC Executive Committee meetings should conform to the cultural context of each Islamic country.
He pointed out that currently one of the major challenges in Nigeria and some other Islamic countries was the gap between what was taught in the universities and what the society actually needed. While emphasising that "policy is everything", he noted that adopting and implementing appropriate policies and selecting realistic and tangible goals and objectives will avert the waste of national budgets and energies as well as accelerate the process of meeting society's current and future needs and achieving scientific and technological development in any country.
He further stressed the importance of closer partnerships among the academia, industry and government within the context of the triple helix model as is the case with the on-going revitalization efforts in Nigeria as a way of increasing the relevance of universities to socio-economic and technological development through the production of work-ready graduates in collaboration with the organized private sector under the auspices of the Nigerian Economic summit group (NESG).
Concluding his thoughts, he stressed the need for advocacy and publicity on the work of ISC in order to bolster the achievement of the mandates of ISC and increase the visibility, discoverability and citation of the scientific publications of many more universities in the OIC countries.
Other ISC Executive Committee members made presentations on the higher education systems in their respective countries as well as on strategies for enhancing scientometrics.
Earlier there was a welcome remark by the President of ISC, Dr. Mohammad Javad Dehghani as well as context setting and ISC video by Director, Office for International scientific co-operation of Iran, Dr. Mohammad Reza Falahati Fumani.
Also other ISC officials made presentations including those of the Head, ISC Department of Analysis of Resources, Mr. Hayat Davoodi, who spoke on "An Overview of ISC Journals, Products and Services"; ISC Vice-President for Research and Technology Affairs, Professor Mansour Haghighat, whose presentation was titled "An Introduction to ISC World University Rankings System".
A major highlight of the meeting was the presentation of an outline of ISC's Executive Committee members list of duties which, among others, requires members to: adopt policies and take steps to increase the number of high ranking scientific journals of their relevant region to be indexed in ISC; make preparations for holding of video conference meetings between the directing bodies of ISC and OIC universities as an initiative to accelerate cooperation between the two parties; facilitate exchange of information and news between ISC and OIC universities (publication of news in universities websites and the media); produce reports on current needs and status of OIC universities (in terms of scientometric issues) and submit them to ISC as a means of upgrading current services or introducing new services in ISC to the benefit of the OIC region.
Others include making preparations for holding of workshops by ISC on journal/university ranking and other scientometric issues either in Iran or in other OIC countries; introducing potential researchers on scientometrics to ISC to contribute and participate in joint research ventures; propose joint research projects between ISC and OIC universities on scientometrics; publication of research, scientific and technological potential of ISC among OIC universities with the objective to come up with MoUs between the two parties; circulating ISC's letters, reports, catalogues, brochures, etc. among OIC universities through email, etc.; facilitating exchange of links (to their websites) between ISC and OIC universities; monitoring and activation of MoUs already signed between ISC and other OIC universities to the benefit of both parties; helping to establish ISC regional offices in their relevant region; and attending EC members' annual meetings.
In the course of the meeting, the following recommendations emerged:
ISC should introduce a new platform for enhancing highly ranked scientific journals, using own rules, based on religion, culture and population-needs beyond universally accepted ranking indicators of the western world.
A regional collaboration to establish journals that will publish important and relevant works that need to be disseminated to people especially in the OIC region.
Introduction of new service by developing a directory about OIC top universities, research areas and research experts that can be used by foreign students to find the best universities to study in the OIC and also a networking platform for academics from OIC that need to undergo research collaboration.
Analyse and suggest suitable methods to make OIC universities really useful for national development.
Review and develop curriculum of universities in the OIC to target relevance and the needs of member nations.
Preparation of model strategic plan for universities based on ISC ranking parameters to help universities improve national and international ranking: and
Provision of incentives and awards for best performing OIC universities to encourage healthy competition and spur enthusiasm in the academic community.