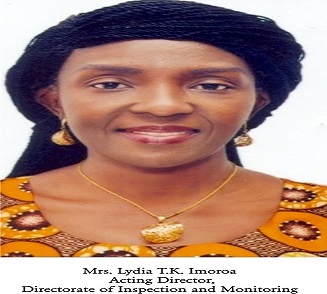 Following the retirement of the Acting Director, Inspection and Monitoring, Mrs. Agnes Bamgbala, the Management at its Special meeting of Tuesday, 14th July 2020 approved the appointment of Mrs. Lydia T.K. Imoroa as Acting Director of the Directorate for a period of six month in the first instance.
In the Letter of her appointment the management said that the decision was made in recognition of her performance, loyalty, commitment and high sense of responsibility.
The new Acting Director, Mrs. Lydia Imoroa holds Bachelor of Arts in French with Second Class Upper Division from the University of Jos in 1989 and a Master's Degree in Public Admin in 2012 from the University of Abuja.
Mrs. Imoroa joined the Commission in October 1993 as Protocol Officer II and became Deputy Director in January 2014.
She had served as Deputy Director, Programme Monitoring Division, Federal Universities Monitoring Division and Protocol Division, before being moved back to the Directorate, Inspection and Monitoring as Acting Director.