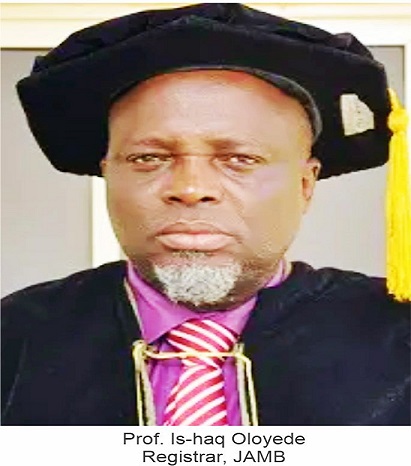 The Joint Admissions and Matriculation Board, JAMB and Heads of Tertiary Institutions in the country last Thursday, 22 July, 2022 fixed the minimum cut-off mark for admissions in the 2022/2023 academic session.
The Board also revealed that only 378,639 of the 1,761,338 who wrote the 2022 Unified Tertiary Matriculation Examinations scored 200 and above.
At the 2022 Policy meeting on Admissions presided over by the Minister of Education, Mallam Adamu Adamu in Abuja, the minimum cut-off marks for universities is pegged at 140 while Polytechnics and colleges of education have 100 as minimum.
The Registrar of JAMB, Professor Ishaq Oloyede, who announced the cut-off after votes by vice-chancellors of universities, rectors of polytechnics and provosts of colleges of education, said the implication is that every institution has the right to fix its own cut-off mark even up to 220.
However, no one will be allowed to go below the agreed minimum cut off marks of 100 for Colleges of Education, 100 for Polytechnics and 140 for Universities.
The meeting also advocated the need for a review of admission criteria to give 10per cent discretional power of admission to heads of tertiary institutions.
In terms of performance for 2022, the JAMB Registrar said only 378,639 of the 1,761,338 who took the examination in 2022 scored 200 or higher.
According to him, 378,639 candidates scored above 200; 520,596 candidates scored 190 and above; 704,991 scored 180 and above; 934,103 scored 170 and above; 1,192,057 scored 160 and above.
JAMB also disclosed that an Ekiti indigene attained the highest score during the 2022 UTME examinations conducted by it.
In 2022, the Board changed how it dealt with candidates awaiting results.
Professor Oloyede said, "JAMB allowed awaiting results candidates to register and sit for the 2022 UTME. These candidates can't be considered for admission on awaiting result status. They must present their O' level results on the Board's portal before the commencement of admissions."
Meanwhile, the Minister of Education, Adamu Adamu, called on institutions to adhere strictly to
all admission regulations prescribed by the regulatory bodies such as the National Universities Commission (NUC), National Board for Technical Education (NBTE), and the National Commission for Colleges of Education (NCCE).
"During the 2021 Policy Meeting, I advised tertiary institutions to adopt a more flexible posture in the admissions process provided all actions are in compliance with the guidelines. One size fits all is injurious, hence, the statutory stipulations that in the exercise of its functions, JAMB should not obliterate the peculiarities and unique features of each of the Institutions," he said.
The Executive Secretary, Prof. Abubakar ADAMU Rasheed, mni, MFR, FNAL, was represented at the JAMB Policy meeting by the Deputy Executive Secretary, Mr Chris Maiyaki.