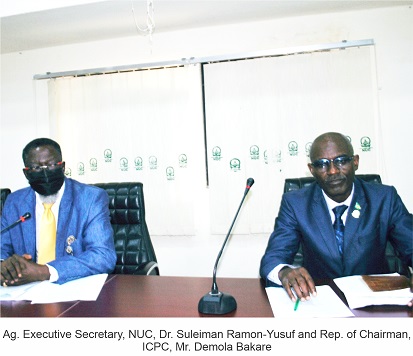 The Independent Corrupt Practices and Offences Commission (ICPC) last Wednesday inducted staff of Service Compact with Nigerians (SERVICOM) and Anti- corruption and Transparency Unit (ACTU) of the National Universities Commission's (NUC) into the Anti-corruption body.
In his remarks at the ceremony, held at the NUC New Boardroom, the Acting Executive Secretary and (DES), Academics, Dr. Suleiman Ramon-Yusuf, said that NUC as a regulatory agency of the Nigerian Universities had always played by the rules and had never been found wanting in waging war against corrupt practices among its staff.
He said that corruption goes beyond stealing of public funds and that the Commission had remained focused in tackling several dimensions of corrupt tendencies in the system.
He reiterated that NUC would continue to ensure effective teaching, learning and research in the Universities, adding that it would not shirk its responsibilities no matter what people think or say.
He said that NUC had always collaborated with ICPC and that the Commission was proud to partner ICPC towards fighting corruption to its barest minimum.
Dr.Ramon Yusuf thanked ICPC for the achievement since its inauguration in the year 2000 and advised the new inductees to work hard to ensure efficiency, reminding the ACTU members that their mandate was to eradicate corruption in NUC. He also urged the inductees to lead by example.
While inducting the members, representative of the Chairman of ICPC, Mr. Demola Bakare said that their function was mainly to receive and investigate complaints from members of the public on allegation of corrupt practices and inappropriate cases and, prosecute the offenders.
He said that other of their functions included examining the practices, system and procedures of public bodies and where such system aid corruption, and use same to direct and supervise their review.
He said that NUC as a regulatory agency coordinates the development of Universities in Nigeria and also allocates and disburses Federal grants and external aids to Universities, explaining that it was important for the staff of the commission to live above board.
Mr. Bakare argued that the inauguration exercise was a step in the right direction and that in 2001 the ICPC initiated the Anti-corruption and TransparencyUnit (ACTU).
He said that for the purpose of exercising its power of system study and review in section 6 of the corrupt practices and other related offences Act 2000 (ICPC Act, 2000), the commission made a request to the executive Arm of Government to establish ACTU in all Ministries, Government Agencies and establishments.
According to Mr. Bakare, the approved request followed a directive from the Office of the Head of Civil Service of the Federation (OHCSOF) through a circular dated 2nd October 2001, which also stipulated that funding for the unit was to be provided by the respective MDAs.
He charged the management of NUC to ensure that ACTU members were fully supported to carry out their assigned duties, stressing that all members of staff were also required to cooperate with the unit to achieve a corrupt-free organization.
He congratulated the new inductees and told them to be of good character and charged them not to use their new position to victimize anybody but to work with utmost integrity to uplift the commission.
In an acceptance speech as Chairman of ACTU NUC, Deputy Director, SERVICOM/ Anti-corruption and Transparency Unit, Mrs. Bukola Olatunji, said that ACTU and SERVICOM had always been active in NUC because the division has the support of NUC management.
She reiterated the fact that in line with the federal Government directive for all Government Ministries, Department and Agencies (MDAs) to immediately setup SERVICOM in their organization, NUC was among, if not the first Government parastatal that started SERVICOM.
She disclosed that the commission would be launching its revised SERVICOM Charter in September, 2021, adding that the Commission was notable for its transparency, integrity and good character. She enthused that SERVICOM and ACTU were Siamese twins in NUC, urging members who took the oath to display a high sense of responsibility in the discharge of their respective assignments.
The induction was coordinated by Barrister Alice Bolarinwa.
Other ICPC officials at the inauguration ceremony were Desk Officers ICPC, Mrs Ophilia Onyeka; Barrister Alice Bolarinwa; Adogo Alonyenu and Khadija Abubakar Jika.
At the ceremony were NUC Directors of Accreditation, Dr. (Mrs.) Maryam Sali; Students, Mr. Sunday Essien; Acting Directors of Monitoring and Inspection, Mrs. Lydia Umoroa; Skills Development and Entrepreneurship, Mr. Ashafa Ladan; and Deputy Director, Human Resources, Malam Kabiru Abdulahi.