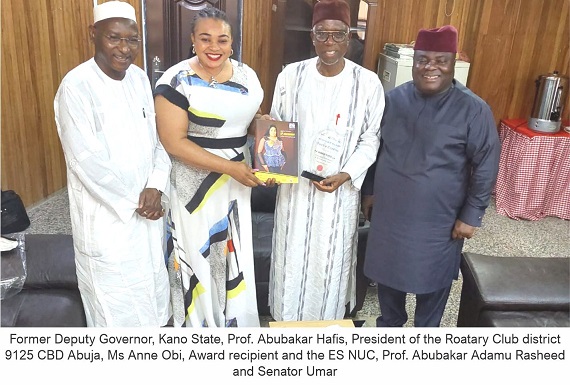 The Rotary Club of Abuja Central Business District located in District 9125, last Thursday, presented the Executive Secretary, National Universities Commission (NUC), Prof. Abubakar Adamu Rasheed, mni, MFR, FNAL, with a distinguished award of excellence in recognition of his sterling role in the Education Sector.
While presenting the award to Prof. Rasheed, the President of the Rotary Club CBD Abuja, Anne Uche Obi, said the award was to appreciate him for his contributions and excellent performance in office which had helped to change the narrative in the quality of university education delivery in Nigeria.
According to her, his choice for the award gave credence that Nigeria still had a reservoir of people who against all odds have embraced hard work, with lofty achievements and dignity that could match or excel their contemporaries anywhere in the world.
The Rotary chapter President noted that the Executive Secretary was a man whose humility in service had not gone unnoticed, describing him as a silent achiever whom Rotary identified as a good role model in the education sector.
The Executive Secretary thanked Rotary for according him such an honour, noting that anytime he received an award, it only reminded him about the need to remain committed and humble to the service of humanity. He said the award from Rotary in particular appealed to him so much, knowing that they were not a political group, but a mix of persons that had been dedicated to the service of humanity since inception in Nigeria. He prayed that Rotary would continue to wax stronger in the coming years.
The Rotary Club CBD Abuja which was chartered in November, 2016, had impacted positively in communities around it with several life changing projects, especially in its adopted community known as Gidan Gimba. One of the major contributions of Rotary in Nigeria had been in the area of Polio eradication programme in conjunction with the World Health Organization.
It would be recalled that Rotary International is a service and humanitarian organization founded about 116 years ago in the United States by a lawyer known as Paul Haris. It has overtime transformed into one of the largest humanitarian platforms in the world with over 35,000 Clubs worldwide.