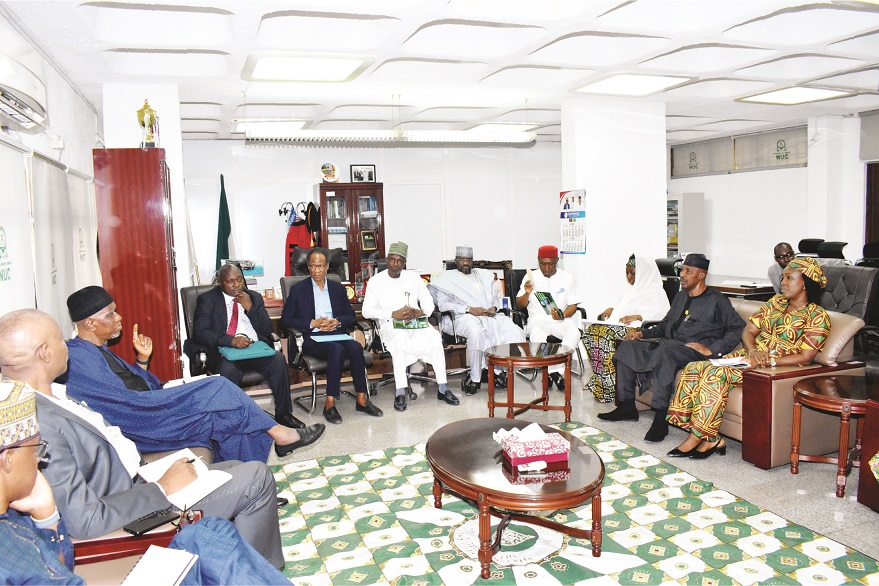 The recently-inaugurated Committee on the Status of Medical Education in Nigerian Universities last week Wednesday, met with the Executive Secretary, National Universities Commission, (NUC), Professor Abubakar Adamu Rasheed mni, MFR, FNAL, to present to him an Interim Report on their assigned task in his office.
Receiving the team which was led by the NUC Deputy Executive Secretary (DES), Academics, Dr. Noel Abiodun Saliu, the Executive Secretary stated that Committee still has much work to do in areas such as: Basic Medical, Allied Health, Dentistry as well as Basic Clinical and Clinical Sciences as they were all part of medicine.
Professor Rasheed urged them to work assiduously to generate a reliable record and status of medical education in Nigeria.
He charged them to dig deep into those salient issues that would restore the pride of medical education especially by looking into whether the nation's available medical colleges have training facilities for students and if the students are also properly trained? He told the team that the Commission needed to have all this data so as to know the advice to give government and other institutions in the country.
The NUC Scribe explained that since he assumed duties in NUC, he had fought hard to deal with medically related issues almost on a yearly basis because of the fractions in medicine.
He gave kudos to Medical Doctors who had refused to be adulterated by engaging in unsavory issues, remarking that it was through persistency that he was able to get medical doctors together to look at the Medical Curriculum.
He stressed that medical education had to change and expressed his delight about the changes brought into the Medical Curriculum.
The Executive Secretary said that NUC had initially wanted to disassociate itself with the Medical Postgraduate Institution that tried to exercise undue powers by awarding PhD's, arguing that people could become world class scholars in medicine but that a PhD in medicine makes it more complete.
While harping more on the PhD, Professor Rasheed said students on PhD should not be overloaded with course work like those doing Masters in Medicine, which is clinically-based.
He reiterated that PhD should be more of research and stated categorically that without Masters (MD) and PhD, no one would emerge as a Professor in Medicine. He urged the committee to do their best to bring out a good document on the status of medicine in Nigeria.
Responding on behalf of the team, Dr. Noel Abiodun Saliu promised that the Committee would compel the Vice-Chancellors of Nigerian universities to submit the list of necessary documents required to help it fast track its assignment as well as build in the anticipated data that would show the state of the medical facilities in the nation's universities.
He assured the Executive Secretary that the Committee's assignment would be completed by the end of the month of April.
Others in the committee on the status of medical education in Nigeria included: Professors Ibrahim Yakasai; B.B. Shehu; King David Yawe; Joseph Ahaneku, while a staff of the NUC Directorate of Academic Planning (DAP), Saadiya Sambo would serve as the Secretary.
At the meeting were the NUC Deputy Executive Secretary (DES) Administration, Mr. Chris J. Maiyaki; Acting Director, Public Affairs (DPA), Alh. Haruna Lawal Ajo as well as Deputy Director of NUC, Dr. Funmilayo Morebise; the Vice Chancellors of the University of Lagos (UNILAG), Professor Folasade Ogunsola; University of Abuja (UniAbuja), Professor Abdul Rasheed Na' Allah; and Lagos State University (LASU), Professor Ibiyemi Olatunji Bello.