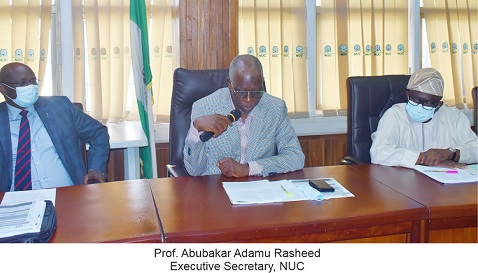 The Executive Secretary, National Universities Commission (NUC) Prof. Abubakar Adamu Rasheed, mni, MFR, FNAL, has cautioned medical bodies to avoid extremism in the practice of medicine, even as he inaugurated the Committee on Postgraduate Medical Sciences and Dentistry.
The Committee was inaugurated with a bid to reposition medical science education in Nigeria for optimal impact and also align it with global best practices.
In his remarks at the event, held at the NUC Boardroom, last Monday, he told the committee that its assignment was to help NUC in bringing up guidelines for the full requirement of medical students pursuing PhD in Clinical Sciences.
According to him, NUC would not fold its arms and allow universities to politicize knowledge when other institutions in the world were changing and adapting to new realities, reminding them that the thorny issue had been the postgraduate training for medical academics which had no clear guidelines for PhD and fellowship in the clinical sciences.
Prof Rasheed recalled that, at the last meeting held between NUC, Vice-Chancellors of universities and medical bodies, it was agreed that PhD remained the highest academic qualification for anybody who desired to practice medicine. He expressed dismay that some medical bodies were against the meeting, reiterating that extremism should not be promoted in the medical line.
He said that students take the Bachelor of Medicine, Bachelor of Surgery (MBBS) very seriously because Medicine required 100% concentration, stating that medical training was very vital for medical students aspiring to become Doctors in the field to be successful. He said the acquisition of PhD only enhanced an academician's fellowship and does not in any way diminish it.
He argued that to be a Chief Medical Officer that the Fellowship was a good qualification, explaining that people felt that asking them to do PhD meant lack of recognition.
He pointed out that PhD in clinical medicine was good as it was part of acquiring in-depth knowledge where a lot of high level research was required and younger ones can be mentored. He explained that because of the premium NUC placed on PhD, it insisted on students doing high level research.
The Executive Secretary charged the committee to conscientiously advice NUC concerning the issue of PhD and fellowship. He also told the committee to come up with the guidelines for universities, adding that the nation should not produce MBBS and PhD without people having clinical medical background, if not it would be a misnomer.
In his speech, former Minister of Health, Prof. Isaac Adewole said that he was a proud supporter of the PhD programme which produced many PhD's especially in clinical. He submitted that with PhD, the holders would be well trained and their output would also be of high quality. He maintained that although PhD was voluntary, it was important for students to get the right qualification because of its relevance in the future.
In his response, the Chairman of the Committee and a member of the Institute of Medical Sciences Africa, Prof. Joseph Otubu thanked the Executive Secretary for the confidence reposed on them and assured that they would do their best to deliver on the mandate as well as meet the standards required and aspirations of all concerned. He expressed his elation that Prof. Rasheed laid emphasis on the PhD acquisition and that this qualification had no equivalent and remained very important in clinical sciences. He, therefore, appealed that the Executive Secretary extends their time frame in order for them to do a thorough job.
This giant effort was required to tackle the twin issues of the Postgraduate training, which had no clear cut guidelines for Masters and Ph.D programmes in the clinical sciences. It would be recalled that a circular was sent out to universities and a committee to look into the thorny issue was agreed upon for inauguration by the Executive Secretary.
Delivering a vote of thanks, Director, Academic Planning (DAP), Dr. Noel Biodun Saliu appreciated the Executive Secretary for setting up the committee and assured that they would not disappoint him, looking at the calibre of experts drawn to undertake the onerous assignment.
Others in the committee included: Provost, College of Health Sciences, Bayero University Kano (BUK), Prof. Ibrahim Yakasai; Institute of Molecular Medicine and Infections Disease, University of Nigeria, Nsukka, Prof. Beckie Tagbo; Federal Medical Centre Jabi, Abuja, Prof. Sa'ad Ahmed; Visiting Professor NUC, Prof. Hafiz Abubakar; A professor in the Department of Medicine, Ahmadu Bello University, Zaria (ABU), Prof. Mohammad Maigatari; and another from Department of Medicine (BUK) Prof. Aliyu Abdu.
Also in the team are Professors in the Department of Medicine: University of Ibadan (UI), Prof. Jesse Abiodun Otegbayo; College of Medicine, Ahmadu Bello University (ABU) Zaria, Prof. Sani Balarabe Garko; Obafemi Awolowo University (OAU) Ile – Ife, Prof. Temitope Esan; as well as Bayero University Kano (BUK), Dr. Mohammed Idris.
To represent NUC in the Committee are: Director, Academic Planning (DAP), Dr. Noel Biodun Saliu and Deputy Director Programme Planning Division, Dr. Mrs. Victoria Pillah.