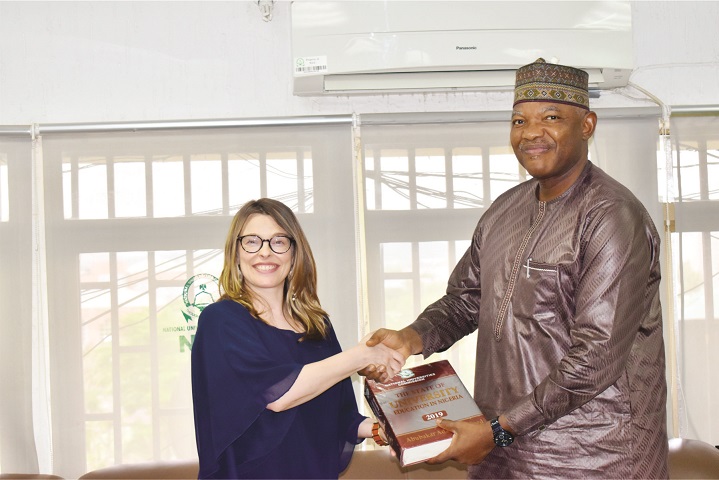 An EDUCase team comprising an amalgamation of several universities from Finland, led by the Chairperson, Start North, Dr. Jari Handelberg, last Thursday, visited the Executive Secretary, National Universities Commission (NUC), Professor Abubakar Adamu Rasheed, mni, MFR, FNAL, to present a concept note for collaboration with Nigerian Universities in the areas of entrepreneurship, research and technology deployment in the learning environment, among others.
Briefing the Executive Secretary, who was represented by the Deputy Executive Secretary (DES) Academics, Dr. Noel Biodun Saliu, the Chairperson disclosed that Educase platform was a pilot initiative of the Finnish Ministry for Education and Culture's Global Programme 2021-2024, with a network of 11 universities and 15 universities of applied sciences.
She said EduCase represents the majority of higher education institutions (HEIs) in Finland, with the entire network coordinated by Aalto University. She told the Executive Secretary that a Nigerian who was also a Visiting Scholar, Professor Olatundun Janet Adelegan belonged to the Faculty of the Aalto University.
She stated that the platform facilitates joint learning activities and aims to scale up collaboration with partner countries in Sub-Saharan Africa and South Asia.
Dr. Handelberg explained that the network promotes practical case collaborations for education, research, innovation, and entrepreneurship skills development between Finnish and partner country HEIs.
According to her, such case studies offered a tangible modality of cooperation to address intersecting sustainable development challenges, with stakeholders representing various cultures, institutions, and areas of expertise.
Some of the main objectives which EDUCase Platform promotes in the area of Multicultural and multidisciplinary academic cooperation included:
• education and knowledge relevant to the challenges of sustainable development as applied to regional contexts of the countries in Sub-Saharan Africa and South Asia
• methods of student-centered education and peer work (e.g., problem-based teaching, entrepreneurship training, innovation, co-mentoring, and co-creation) in Finland and partner countries
• reciprocal and responsible academic and entrepreneurial practices and concepts of global responsibility
• working life and entrepreneurship skills, cross-sectoral critical thinking, and sustainability skills for students.
She highlighted some of the ideas as novel Academic activities that connect to innovation ecosystems for sustainable development which Finish universities embark upon to include: Enhancing practical cooperation between universities and innovation actors; Strengthening responsible innovation and entrepreneurship competencies at ecosystem levels as well as Contributing to increased academic engagement between Finland and partner countries in Sub-Saharan Africa and South Asia .
The main objective of the event was to share information on Africa-focused funding mechanisms and current opportunities from a variety of sources. The target groups for this event are faculty and staff of Finnish Higher Education Institutions (HEIs).
The organizers of the webinar were the four MEC-supported Global South networks focusing on Africa; EDUCase Network, FAPI, GINTL Africa, and SAFINET. These thematic networks aimed to facilitate joint research, education, and innovation collaboration between Finnish HEIs and African partners. The networks seek mutual and long-term partnerships that foster sustainable impact.
She revealed that another major university in the EduCase network included Lut University, which is a Finnish public research university established in 1969. The University's Lappeenranta campus situated on the shore of Lake Saimaa – the 4th largest lake in Europe, while its second campus in the Finnish city of Lahti. The university also has research units in the Finnish cities of Mikkeli and Kouvola, as well as a regional office in Brussels, Belgium.
She informed the Executive Secretary that LUT University being a University of Technology, specialized its academics and research in the fields of engineering and technology. The university also has a school of business and a department of social sciences and had developed specialisation in renewable technology, clean water and energy, combating climate change and finding sustainable engineering solutions.
There are 1,237 staff members and 7,110 undergraduate and graduate students in the university. Over 5,000 students reside in the larger Lappeenranta campus area, and the Lahti campus hosts around 1,000 students. The university also hosts 1,090 students attending Open University and 816 students in continuing education and incidentally has one of its Nigerian student in the team, Mr. Chukwuma Igboanua, who has been a Research Fellow in the Institution.
Dr. Hadelberg added that opportunities abound for Nigerian students as those who study via the technology-modulated process of those universities had no issue with losing their cultural identity as over 40 million jobs could be created through the remote process she also stressed that the students had the advantage of being strategically located to benefit from the technology.
She stated that the EduCase team desire to establish collaboration with Nigerian Universities to make contribution in addressing the increasing demand for quality higher education in Nigeria and Africa at large. The NUC acknowledged elsewhere the importance of first-time global mobility of people and educational services from one country to the other.
She added that, this would foster collaborations between Nigeria and Finland and Finnish universities and their counterparts in Nigeria, stressing that a lot of benefits were derivable by the collaborations under the EduCase initiative.
The Chairperson of the Start North assured the NUC that the team was willing to undertake joint collaborative research and provide venture capitals to Nigerian students as these capitals would afford them opportunities to have access to various beneficial programmes while on study in Finland Universities.
She further said that, EduCase was already in the process of signing Memorandum of Understanding (MoU) with some existing universities that had shown interest for partnership in higher education which will be presented to NUC for ratification.
Responding, the Executive Secretary stated that it was not surprising that Nigerians decided to study in most parts of the world including Finland, noting that the stringent admission policy as well as the restricted quota was responsible for the increasing number of Nigerians pursuing education elsewhere.
He informed the delegation that NUC will review the EduCase proposal at the management level since the document was just being received.
Harping on the request for NUC's endorsement of the proposal, Dr. Saliu informed them that the universities might not swallow the contents hook, line and sinker, but look into the nitty gritty of areas that would interest them on individual basis as the case might be.
Both parties however agreed that as soon as the Executive Secretary returns, a technical team would be raised to further explore the possibilities as expressed in the concept note.
At the meeting were the NUC Directors of: Human Resource (DHR), Mr. Boniface Odum; Executive Secretary's Office (DESO), Mr. John Mairafi Ahmadu; Ag. Director, Public Affairs, Alh. Haruna Lawal Ajo and Deputy Director Curriculum Development, in the Directorate of Academic Planning (DAP), Dr. Mrs Esther Mmeka.