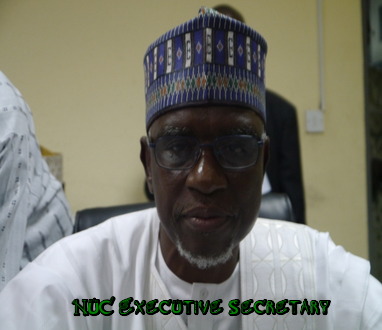 Welcome to the National Universities Commission (NUC), the regulatory body for Nigeria's University system. The NUC has come a long way from the period of its establishment in 1962 as an advisory agency in the Cabinet office and its subsequent upgrade to a Statutory body in 1974 to its current state as a foremost regulatory body for tertiary education in the country. In this period, the NUC has nurtured the growth of Universities in Nigeria from just 5 (UI, UNN, UNILAG, OAU and ABU) to its current number of 219. The NUC in recognising the need to meet the high demand for tertiary education in the country has also successfully midwifed the establishment of 111 Private Universities, representing 50.7% of the total number of Universities in the country.
The NUC has a mission to ensure the orderly development of a well coordinated and productive university system that will guarantee quality and relevant education for national development and global competitiveness.
Executive Secretary's Profile
Born in October 1957 at Makarfi in Kaduna State, Professor Abubakar Adamu Rasheed mni MFR attended the Local Education Authority (LEA) Primary School, Makarfi between 1966 and 1971; School for Arabic Studies, Kano (1972-1976); Bayero University, Kano (1977-1980 and 1981-1983); Ahmadu Bello University, Zaria (1986-1991) and the University of Nottingham, England, (1989-1990). He holds, among other qualifications, a B.A., two MAs, and a PhD in different aspects of English Studies.
Professor Rasheed began his teaching career in July 1981 as a Graduate Assistant in the Department of English and European Languages of Bayero University. He rose, through the ranks, after 10 years, to become a Senior Lecturer and Head of Department. In April 1993, he left the university to have a stint as a journalist with the New Nigeria Newspapers Limited, where he was appointed the Editor of the Sunday paper. After three months on the job, he was appointed as the substantive Editor of New Nigeria, a position he held until February 1995, when he became the Managing Director and Chief Executive of the New Nigerian Newspapers Limited. He was opportune to attend as International Visitor, the Multiregional Conference on United States' Foreign Policy (August to September 1997) as well as the Annual Human Rights Conference, held in Geneva, Switzerland in April 1999.
In May 1999, after managing the company for four years, he voluntarily withdrew his services from the New Nigerian Newspapers to return to his teaching job in Bayero University, Kano. With his return to the University, he served as Head of Department of English and French (1999-2000), Dean of Faculty of Arts and Islamic Studies (2000-2005), Chairman University Consultancy Services Board (2005-2007), Deputy Vice Chancellor (Administration) (2007-2009), Deputy Vice-Chancellor (Academic) (2009-2010), Acting Vice-Chancellor (July 5-August 17, 2010), and as immediate past Vice Chancellor (2010-2015).
Professor Rasheed also served in several committees and boards as chairman /member including Senate, Committee of Deans and Directors, University/Community Relations Committee, University Admissions Committee, Convocation Committee, University Endowment Fund, and University Press Steering Committee. Between 2000 and January 2004, he was a Federal Government appointed member of the Governing Council of the National Institute of Nigerian Languages (NINLAN), Aba; Member, Governing Councils of Ahmadu Bello University (ABU), Zaria, University of Jos, and the Kaduna State University, Kaduna; Jigawa State University Implementation Committee (2010 and 2011).
Professor Rasheed has also served as a member of the Panel of Judges of Nigeria Prize for Literature sponsored by the NLNG. He currently serves as Chairman of the Technical Advisory Group for the ETF Book Development Project. Since 2013, he had been a member and Technical Consultant to the Implementation Monitoring Committee on the Needs Assessment of Nigerian Public Universities.
An Author of several peer reviewed journal articles and technical reports, Abubakar Rasheed was promoted to the rank of Professor of English, in October 2001. He also holds the prestigious title of Member of the National Institute (mni), and Member of the Federal Republic (MFR). He is a Fellow of the National Institute of Public Relations (FNIPR), Institute of Corporate Administrators (FICA) and Institute of Corporate Executives of Nigeria (FICEN) as well as Linguistic Association of Nigeria (FLAN).
He is happily married with children.
Past Executive Secretaries
Prof. Jubril Aminu (1975-1979)
Dr Abel Guobadia (1979-1981)
Alhaji Yahaya Aliyu (1981-1986)
Prof Idris Abdulkadir (1986-1996)
Prof Munzali Jibril (1996-2001)
Prof Peter Okebukola (2001-2006)
Prof Julius Okojie (2006-2016)